Gym Assistant – Membership Management Software
Simple.  Powerful.  Affordable.
Gym Assistant is an easy-to-use membership database software for small to medium size gyms, fitness centers and health clubs. It automates membership related tasks and provides the information gym managers need to make smart, informed business decisions. Choose from eight (8) capacity Editions– all Editions are the complete program — no features have been limited or removed. As your club grows, simply upgrade your database capacity to the next Edition level.
Gym Assistant supports EFT billing and ACH processing. Learn more.
Member Records and Front Desk Check-in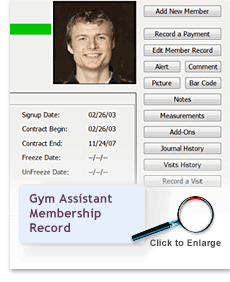 Gym Assistant's intuitive interface design puts everyday menu options onscreen in clear English. You don't have to "read" icons to use Gym Assistant — saves staff training time.
Another Gym Assistant time saver — members scanning barcodes at "check-in" won't interrupt your personal computer work.  Their visit is recorded in the background.
From the member screen you can:
Add new members
Check-in members
Record a payment
Record measurements
Add notes
Add member's picture using PhotoCapture
Set-up membership plans and service add-ons
View member's payment and visit history
Track waivers
From Gym Assistant's Toolbar Menu you'll find quick access to Billing, Payment Processing, Membership Plan set-up, Reports and other easy-to-use features.
Only current members are given club access with these Gym Assistant add-ons!
Add photo identification to member records using our photo capture camera.  Greet members as they check-in and validate their member photo at the same time.
Barcode key tags plus a Gym Assistant barcode reader provide unattended check-in and track activity.  When a member's barcode information is scanned, Gym Assistant "beeps" if there's a problem.  Gym Assistant displays the alert problem on the top of the member's record.
Access control systems provide secure entry during and after club hours. Use electronic credentials (Digital SmartKeys), barcode key tags, proximity key cards/fobs or even with a third party turnstile.  Includes options to control multiple entrances which can be activated/deactivated at scheduled dates/times and by assigned membership plan type.
Gym Assistant Software includes:
One year technical support by email, phone and remote computer assistance
One year software updates

One year automatic data back-up

System Requirements:
Windows 10 or Windows 11
40 MB free disk space
Software only users:  Recommend PC with 4GB RAM Minimum
Software + Access Control or Network License users:  Recommend PC with 8GB RAM Minimum